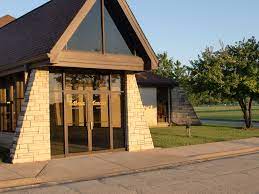 Built in 1974 and located adjacent to our Garden Mausoleum, is our beautiful Chapel featuring hand-painted murals that accent the walls. The Chapel can comfortably seat 150 people, whether it is being used for a traditional committal service or for any type of viewing, visitation or memorial service.
Chapel Rental: Bethania Cemetery offers families the option of renting the Chapel for private use. Please check with the office for current rental rates.
The rental fee includes the following:
One (1) Hour of Private Use
A Bethania staff member to be at your service for your rental period
Family can choose an open or closed casket viewing – or for cremation, the Urn will be placed on a pedestal
Sweet Tray (plates, napkins included)
Coffee, Water Bottles, Soft Drinks
Two (2) Easels for pictures
Music provided – or bring your own CD
After the rental period, the option of a graveside committal service is available. The Opening/Closing is a separate fee and not included in the Chapel rental fee.